Southern New Mexico Youth Acting Showcase. (Las Cruces only now…..but new class updates coming for Abq soon!)
Intensive youth acting training with Showcase performances.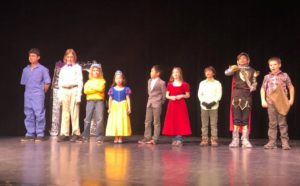 Ages 9 to 17
"Acting, as a profession, is not for everyone: acting training is."
                                                                                Stephen Burhoe.
A fun and enriching experience!
Stephen Burhoe is regarded as one of the best youth acting coaches in the industry.  He takes an approach that the training for acting is more than Theatre, Television or Film, it is life skills training. Students will learn interview skills, overcome shyness and can expect to improve their study skills. Mr. Burhoe's students typically show improved grades, better reading and confidence with public speaking.
In this class actors will learn from the ground up, the skills needed to enter the world of professional acting. Whether they want to be a professional actor or not, they will learn to present themselves as professionals. They will improve rapidly with plenty of personal attention, so that individual needs are addressed. This allows for rapid advancement.
Students will learn staging, scenes, monologues, audition techniques and will have an opportunity to showcase their new skills in showcase performances. They will learn how to prepare "self taped" auditions and have an opportunity to submit their tape to the State wide New Mexico Film Foundation Actors Showcase.*  The class will culminate in a series of public showcase performances with live audiences. All students will perform a monologue and be in at least one scene or short play at Players Craft Showcases.
This class will give students an opportunity to learn both film and stage acting and gain real world skills for the industry and life. 
12 Saturday's 10:00 AM to Noon, plus performance dates to be announced.
January 20 – April 7
Additional rehearsals may be necessary by arrangement (no extra charge).
$295.00 
*The New Mexico Film Foundation Actors Showcase is a competition. Players Craft is not involved with the presentation of the event, but supports the efforts of the Foundation to further the growth of the film industry in New Mexico. Participation in the New Mexico Film Foundation Actors Showcase is optional. However, all students will prepare as though they will be competing. This is good training for professional preparedness. Actual participation in the NMFF Showcase is free. Support for student participation will provided by Players Craft.