---
Want to be part of the growing film, television and commercial industry in New Mexico? This is the place to start if your new and expand if you already have experience.
Stephen Burhoe brings his unique approach to a beginning/intermediate class for adults. His brand of "Practical Acting" allows students to progress rapidly and with confidence. Students will get a solid foundation of techniques, exercises and insight into acting.
Looking to get into the business? This class is a must. Whether you want to act professionally, increase public speaking confidence, or just have fun, check out this class!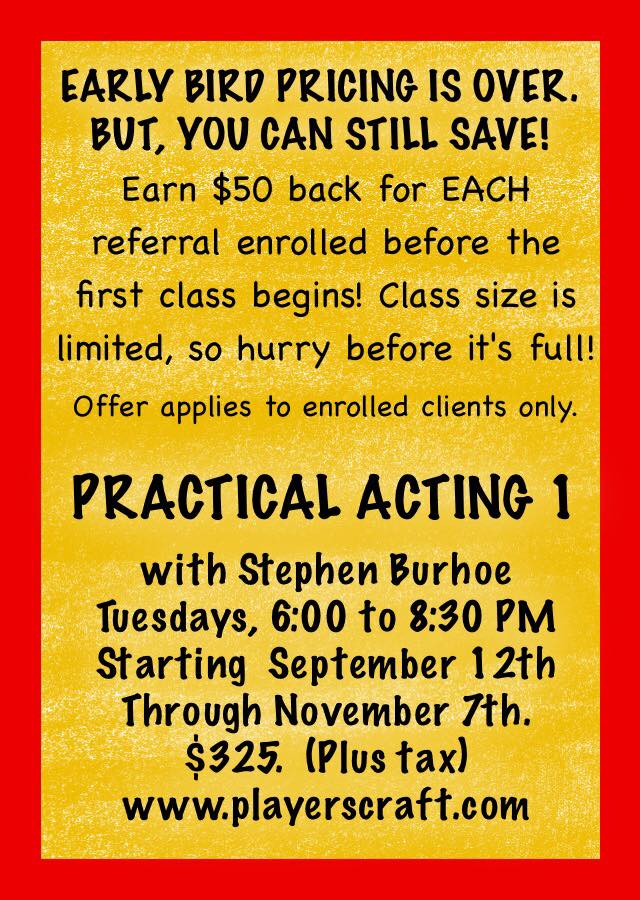 DATES:
Nine Tuesdays: September 12th through November 7th. (No class 10/31)
LOCATION:
At North Domingo Baca Multigenerational Center
7521 Carmel Ave NE, Albuquerque NM
6:00 PM to 8:30 PM
No Class October 31st.
PRICING:
$325.00 plus tax ($348.77)
EARN $50 back
From your own enrollment cost for EACH student you refer who enrolls! Class size is limited, so invite your friends to sign up before it's full! (See details and restrictions at checkout.)
TOPICS COVERED:
"The Rules Of The Road"
"Rehearsal Techniques"
"How To Learn" (Memorization is a dirty word)
"Scene and Monologue Study And Performance"
"Movement for Stage and Camera"
"The Audition"
"The Business Of The Business" - Head Shots, Resume, where to get auditions and how to pursue representation.