Jeff Corey was an incredible acting coach. His list of students reads like a who's who of the Hollywood elite. Jack Nicholson, Carol Burnett, Steven Spielberg and Leonard Nimoy are just a few of those who trained with this master coach. Now, fifteen years after his death his book has finally been released. To celebrate, Stephen Burhoe, a long time student of Mr. Corey's, has created a tribute class.
The original six week intensive has been extended to eight weeks and features many of Corey's exercises approaching acting (and life) as art.  This class is an homage to his acting philosophy.  Previous versions of this class have seen students improve rapidly, with a much deeper understanding of the acting craft.
In Super Scene, students will take 1-2 scenes, and over eight weeks, prepare them by using Corey's improv and discovery techniques to give a rich  honest performance.  This is a very unique class. Don't miss it!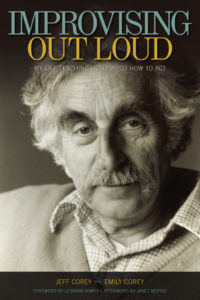 Albuquerque
Eight Tuesdays 
March 6 through May 1
(No class April 3)
10:00 AM to noon.
$250.00 plus tax. ($268.28)
Las Cruces
Check the calendar for upcoming dates